.
DRUMFLEX is a flexible cable drum cover made of UV resistant white PE film laminated to a black UV resistant PE base sheet with a total thickness of 2,2mm.
DRUMFLEX needs to be wrapped around the drum and needs to be fixed by applying a plastic or metal strap around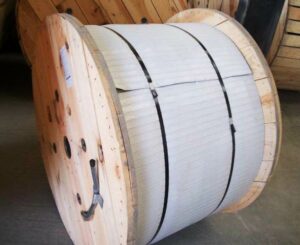 the drum. White side of the cover looks outside – black side looks inside the drum.
Any other colors or prints (e.g. logo, symbols etc.) are possible.
Futher Advantages DRUMFLEX:
Strong protection and impact proof against falling objects, forklift-touches and compression from wooden drums
moisture- and weather proof against snow and rain
protects from salty sea water
Anti – termite
UV-protection against sun light
100 % recyclabale, made from 100% PE
easy handling
Specifications:
Thickness: 2,2mm Standard
Weight: ca. 1.800 g/m²
Widths:  100mm – 1.600mm
Lengths of 100m each roll (standard) – other lengths and sheets upon request!
on 152mm (6") cores for easy handling